"There is nothing evil save that which perverts the mind and shackles the conscience."
---
6-1: The Gullykin Debt
The week following Brevan's ascension as Gullykin was among the most stressful in his life; time spent in prison included. He was constantly swamped with paperwork; mostly to rectify former mayor Jamtoes's embezzlement and overall poor leadership skills. First on Brevan's order of business, however, was to remove all of the busts, paintings, and statues of Mayor Jamtoes from Gullykin; in the case of the large, metal statue that had once blighted Gullykin's town square, Brevan sent the statue away to the mephians of Moufette, who promptly smelted the stature into liquid bronze for more aspiring projects. With the money he received for the bronze statue, Brevan refunded two gold pieces to every man, woman, and child in Gullykin; a much beloved gesture on his part, as two gold was more money then any of the halflings had held at once in twenty-five years.
As he had previously advertised, Shuriel set up shop as the official alchemist of Gullykin. Though the halflings couldn't afford to buy any of Shuriel's more expensive wears, he did provide minor medicines and herbal remedies to the halflings, though most of his money came from selling wears to travelers who passed through Gullykin. Through his sale, Shuriel had acquired the supplies to make a fair reserve of alchemical potions for himself in case of an emergency. Omar, in the meantime, set out to do some crafting of his own, restocking his stash of alchemical and paper cartridges. Jewel and Zerrik, however merely enjoyed their time off from fighting and campaigning, letting Brevan handle most of the burdens of his new office.
Several days later, five after Brevan had first become Mayor of Gullykin, it had finally seemed like things were quieting down and he could focus on planning Gullykin's future. That is, until the butler whom Brevan had inherited from his home's previous owner, Jameson Jamtoes, knocked on the door.
"Door's open," Brevan called as he stared at the various laws and decrees that he was expected to memorize, spread across his desk like a tablecloth. The door creaked open and Jenkins, Brevan's new butler who had previously worked for Mayor Jamtoes, walked into the office.
"Mr. Kindlebrin, there appears to be several officials from the City of Sigmar to see you, sir.
"Now what?" Brevan mumbled to himself as he began straightening up his desk. "Send them in, I suppose. Last thing I need is problems with Sigmar City."
"Very well sir," Jenkins bowed as he exited the room, leaving Brevan to frantically try to build the illusion that he was trying to run a clean, orderly village. "Times like this, I wish I was an illusionist," he quietly grumbled, resolving to simply shove the probably important papers into an unoccupied draw just as Jenkins returned.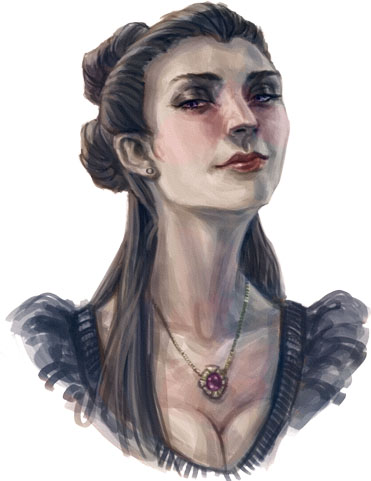 "Presenting Mr. Cobblesworth and Lady Blackshallow, sir." Brevan looked up at groaned; whatever these two individuals wanted with him and Gullykin, they clearly meant business. Both individuals were clad in the fine clothing, Mr. Cobblesworth wearing a custom-tailored suit, embroidered with golden trim and Lady Blackshallow was wearing an elegant gown that was probably enchanted to ward off dirt, as a lack of dirt or mud on a dress out in the country was all but entirely impossible without magic. Brevan quickly pulled himself together, quickly placing on a fake look of excitement on his face, presumably for the well-cultured guests he was now unwillingly entertaining.
"I daresay, how drôle, Mr. Cobblesworth. The halflings seem to have a young lad leading them!" Lady Blackshallow chuckled.
"Indubitably," Mr. Cobblesworth responded like clockwork, holding up a fine monocle to inspect Brevan with. "I daresay, son, aren't you a wee bit young to be in this room? Why don't you run along and grab your father for me."
"I assure you," Brevan said, his bright red cheeks hinting at his embarassment. "You are speaking to Mayor Kindlebrin. I am more than qualified to run this village."
"I should hope so, there isn't much here to run!" Lady Blackshallow said, her malice sweetened by her giggling voice. Brevan quickly decided that he didn't enjoy Lady Blackshallow's company, and that it would be within his best interest to usher these humans out as quickly as possible.
"Let's get to business, shall we? What exactly can I do for you two today?" Brevan asked, purposefully letting his cheerful attitude slip away slightly.
"Ah, very well chap," Mr. Cobblesworth began fumbling through his jacket pockets as he spoke. "Being mayor, you're probably already aware of this, but each town is required to pay taxes for use of Duke Sigmund's family grounds."
"Yes, I am aware," Brevan bluntly responded.
"Well then! Jolly good. We'll be taking this year's tax payment then, please. 1,000 gold in full."
"Wait, what? According to my records," Brevan frantically began searching through the papers he was just looking through when his guests arrives, searching for the town's taxation schedule. "Mayor Jamtoes had already paid this year's taxation! Here it is, the payment date was two months ago, back in Summerfull!"
"I'm afraid not, 'old boy. Mayor Jamtoes had applied for an increase to the payment period several times, as your records imply."
"Well then, can't I extend the payment period?" Brevan furrowed his brow as Lady Blackshallow began laughing.
"'Fraid not, little Mayor," the lady replied between chuckles. "The final deadline is a week from today. We'll need the money then, or else your land returns to its true owner, Duke Sigmund. More likely then not, he'll kick all of you midgets off of this dump and put something that's actually useful here instead." Brevan shot the woman a dark glare as he imagined all of the various ways he could kill her on the spot. Regaining his composure, he returned his gaze to Mr. Cobbleworth.
"So, you're telling me that I have one week to raise this money, and if we don't, we're evicted from our homes?"
"That's the gist of it, yes. Dreadfully unpleasant stuff, I'm afraid." Lady Blackshallow's bemused face hinted that she found the situation far from unpleasant.
"Very well, I will see what I can do. Jenkins, please see our guests out. I'm sure they'll be wanting to return home." Jenkins bowed before his master and ushered the two humans from Brevan's office, leaving Gullykin's mayor and hero to wonder if his would be the shortest term of mayor in the history of the world.
---
6-2: The Lich and the Deed
That night was a troubling one for Brevan as he sat on his bed holding his temple, a lone candle his only reprieve from becoming swallowed in the night's darkness. Though the work was doable, his meeting with Mr. Cobbleworth and Lady Blackswallow had made the entire day all the worse. A light rapping on his bedroom door joshed Brevan from his thoughts.
"Come in," Brevan replied without energy in voice; not from physical weariness, but weariness of the spirit. Jenkins opened the door and walked in with a small candel, a bottle of brandywine tucked under his arm and a fine glass carefully harbored in the other.
"I thought you might enjoy this at such a weary time, sir," Jenkins placed the new candle and the glass on Brevan's dresser, gently presenting the bottle with his freed hands. Brevan looked at the bottle, smirked, and gestured for Jenkins to join him. Jenkins picked up the glass and poured the amber wine into it. He walked the liquor to Brevan and presented him with the glass, who shooed it away.
"Have a seat and drink it," Brevan responded, gesturing to his bed and reaching for the entire bottle. A look of disbelief crept across the butler's face as he did as he was told, finding a seat on a comfortable chair after handing the brandywine bottle to Brevan. The newly appointed mayor popped the cork and began emptying the bottle's contents into his mouth, pausing only to take rather large gulps.
"The master will sleep well tonight," Jenkins said sourly as he sipped his wine.
"I could use a good rest," Brevan retorted as he wiped his mouth with the sleeve of his night shirt, letting his bottle-holding arm rest against the bottom of his bed. A moment of silence crept into the room before Brevan spoke again.
"Jenkins, what should I do about the debt?"
"Your pardon, sir?" Jekins asked, looking surprised.
"I could afford to pay the debt myself. While costly, a thousand gold is affordable. But would doing so make me any better than Jamtoes? Where as he oppressed Gullykin, I'd be setting myself up to coddle it, spoiling the entire populace like they were my own children." Jenkins was quiet for a moment before returning his gaze to Brevan.
"You will not get the people of this village on their feet again by paying for their responsibilities, and you would breed in a generation of slackers and nobodies among our children if you paid every price life placed before them," Jenkins agreed. "However, a thousand gold in taxes is outrageous for our people. At the height of our kin's prosperity nearly two decades ago, Demeter never graced us with enough crop to be able to raise a thousand gold's tax and still afford to feed ourselves. I would suggest a legal loophole until you can make more permanent arrangements, sir." Brevan looked at Jenkins curiously.
"What do you know about loopholes, Jankins?"
"Well, sir. Former mayor Jamtoes would often, dare I see, brush his responsibilities on yours truly."
"I don't find that difficult to believe at all," Brevan grinned at his butler, who puffed up, looking rather proud of his skill.
"I may not have been the most effective stand-in, but I was competent enough to avoid utter disaster. As a result, I have been rather familiar with many of the laws of this fine nation, one of which is the Territory Settlement Clause."
"The Territory Settlement Clause? What's that?"
"Very simply put, should a city, regardless of how small, acquire new territory, the due date of all taxes is postponed for several months so that the new territory might have the opportunity to refill the city's coffers, to make up for the gold that such a settlement would have to pour into the new territory in order to get it up and running." Brevan's cheerful look crept away as Jenkins explained the law.
"It's not a bad loophope, Jenkins, but in a kingdom like Sigmar, we'd had to spend money in order to acquire a new territory, just like you said.
"Ah, normally true, but this is a loophole within a loophole, my good man!" Jenkins winked at Brevan slyly. "You see, if we were to acquire some land already purchased by the town, we would still gain the extra time without paying a dime!"
"Well, where could we find anything like that?" Brevan asked with a suspicion that Jenkins held this answer as well.
"Well, Master Kindlebrin, as you may recall, former Mayor Jamtoes was very keen to send adventurers to Goldmeadow Mountain. The story he told you was true; the mountain once held the lair of a powerful lich, though the lich was slain by a monster slayer by the name of Don Maximilian. Regardless, rumors say that the lich possessed the original deed to Goldmeadow Fields, the ancestral home of our kin." Brevan heard stories of Goldmeadow; its lush and fertile soils were said to be the best farmland in Sigmar. Some of the older among Brevans friends had even recalled living there as babes; until Mayor Jamtoes had sold the land to Duke Sigmund. With nowhere to go, some of the halflings agreed to move onto the Jamtoes lands to work for Mayor Jamtoes, who said the sale was unavoidable because of debts from the city. About half of the town called shenanigans on Jamtoes and left, forming their own nomadic home in the Wild Hills to the west.
"And you think the rumors are true?"
"If they're not, there might very well be a mountain filled with lich treasure to pay off the Gullykin debt. You could acquisition it in the name of the village," Jenkins pointed out.
"I suppose it's my only option this point if we want the people to become self-sufficient," Brevan pondered. Jenkins left the bottle of win with Brevan, gathered his candle and glass, and left the young mayor to his own thoughts for the night.
---
6-3: Goldmeadow Mountain
Within two days, Brevan had everything he needed packed and ready to go. Jewel and Zerrik were standing by his side while he waited, growing steadily more impatient with each passing second.
"Ugh, where are those two?"
"Shuriel said they'd be back today, don't worry about it so much," Jewel offered. They were waiting for Shuriel and Omar, who had decided to go to the raconan town of Orleans; half a day's journey southeast of Gullykin. Orleans was renown as a port city in the Sigmar region, and most goods going in and out of the city had to pass through Orleans at some point in order to leave the region by ship. Shuriel and Omar both wanted to try and set up trade agreements with the raconan, believing that the influx of supplies and weapons would be invaluable towards setting Gullykin up as its own independent settlement.
"I think that's them now," Zerrik said, squinting in the afternoon sun. Two figures were riding towards them on horseback. Shuriel and Omar dismounted in front of their companions, looking surprised.
"Aw, did you miss us that much, mayor?" Omar snickered.
"Yeah, right," Brevan scoffed. "Look, here's the rundown. Jamtoes never paid his dues to Sigmar City, so unless we can pay the fee of 1,000 gold in a week's time, the people of Gullykin are going to lose their homes to Sigmar City."
"Why not just pay it ourselves?" Shuriel asked as he gathered his things from the horse, looking uninterested. "I alone have a thousand gold. If we all pitch in, we could easily cover this debt."
"I know. I could have paid it off myself, but do we really want to just sit here and pay away all of the town's problems?" Brevan asked. "The people of Gullykin need to be able to stand up on their own, two feet if we're ever going to be a successful village."
"Right, and all this," Omar said, gesturing towards Jewel and Zerrik, who were carrying their equipment and several day's worth of supplies, "Has something to do with your plan?"
"Exactly," Brevan's eyes were gleaming as he spoke to his friends of the story of Goldmeadow, its deed, and the Lich's Laboratory that was said to exist on the mountain.
"Wait, so you want us to go into this place? Sounds like a bit of fun; my gun was getting rusty."
"Studying a Lich's facility, regardless of how decrepit, could bring about miraculous insights towards my alchemical pursuits," Shuriel mused. "Regardless, Omar and I are already packed, so it sounds like we shall be joining you, Brevan."
"I had a feeling that you might," the halfling grinned. He reached into his satchel and pulled out a map. On the previous day, he had scoured Mayor Jamtoes's former office, looking for any mention of the Lich's Laboratory he could find. He came across this map, detailing how to get to the mountain where Don Maximilian, the slayer of the lich, reportedly entered the tomb many years ago. Over the years, Brevan had learned that many people; both halfling and non, had been lead to the mountain to their deaths. He was prepared, however, to take the plunge into that place for Gullykin. He just hopes that his allies were prepared for whatever they found on that hill as well.
---
6-4: Rushin' Bulette
Jameson Jamtoes's map had proven to be more of a hindrance then an aid to the party as they scaled the southern boarder of the Wild Hills. Although Brevan couldn't blame most travelers from wishing to stay out of those monster-infested lands, he believed that his group could have handled anything the hills could throw at them. But the path provided by the map was filled with twists and turns to the point where none of them wished to deviate from the road for long; Brevan got the impression that the map was a literal translation of the path that the first person to stumble upon the lich's lair took and was never simplified.
Because of this, the sun was beginning to set as the the group laid eyes on the lush fields of Goldmeadow; and to the North, Goldmeadow Mountain. Now, Goldmeadow Mountain wasn't actually a mountain; it wasn't rocky or hilly as most mountains that Omar and Zerrik, both traveled individuals, had seen. However, to Brevan, Jewel, and Shuriel, the hill was massive, and definitely met their definition of a mountain.
"So, do we gotta climb up it?" Jewel asked curiously, gazing up at the peak that radiated gold in the setting sun.
"No, according to the map, there's a secret door into the lair between two trees." Shuriel replied, scouring the surrounding area with certainty. His eyes lit up when he spotted them; two, withered and old trees that looked all but dead. Shuriel noted that the ground surrounding those trees and much of the land near that face of Goldmeadow Mountain was bare; brown and devoid of plant life. If a lich were about, it would surely have left such a mark of death and decay on the land.
"So what, exactly, is a lich anyway?" Omar asked, pulling his gun from its holster.
"In essence, it's a powerful arcanist who decides to pull their soul out of their body and bond it to an artifact called a 'phylactery,'" Shuriel explained. "The idea is that if your soul is magically bound to a physical object, you won't be able to die."
"Sounds a bit risky," Omar said with a disgusted tone. "Does it work?"
"Aye," Zerrik answered. The entire group was now poking around the mountainside, looking for any clues on how to enter the lair. "It's potent magic. Turns your body into a powerful undead monstrosity. Should your corporeal body be destroyed, you simply reform a new one around your phylactery.
"So you can never die?" Omar said sullenly.
"Well, not exactly. It's a measure to guard against death, sure, but a lich can still die. Namely if one was to destroy their phylactery. But most liches guard their phylactery with the full extent of their arcane powers; they hid it under mountains, across seas, or even beyond our plane in some cases," Brevan chimed in as he stopped to rest. He had been trying to climb up one of the trees for a better view, overestimating his own athletic prowess.
"Over here, I found it," Jewel called out as she stared in front of a patch of stone. Brevan hopped down from his tree limb and the group formed around Jewel. "Do you see it?" Jewel asked, tracing her finger around a faint, but artfully crafted, split in the stone. Without her pointing it out, most would have simply skimmed right over the indention.
"You think that's the way in?" Brevan hopefully asked.
"No. Stones just cut themselves perfectly into slabs," Jewel replied sharply. "Stand back; I'm going to see what this thing does, and it could be trapped. Be on your guard." Slightly at first, but then with growing resolve, Jewel pushed the stone inward until, roughly half a foot inside the wall, it made an audible 'click.' The section of stone directly next to Jewel immediately slid away, revealing an entrance. The hallway was lined with freshly lit torches, which Shuriel promptly moved inside to investigate.
"Hey! This place could be booby-trapped!" Jewel whispered harshly at the elf as he passed her.
"But clearly, it's not," Shuriel turned at smiled as he reached the torch. He grabbed it by the handle and tried to pull it from the wall. The torch was stubborn, however, and stuck to the wall with resolve. Zerrick pushed Omar and Brevan aside to get to the torch.
"Here, allow me to try my hand," Zerrik grabbed the torch and heaved with all his might; the stone block the torch was bolted to shuddered under the force, but neither brick nor torch budged under the man's mighty grasp. Zerrik let ago and breathed deeply for a moment, having exterted much strength in his vain attempt to remove the torch.
"It's clearly an ever-burning torch," Shuriel observed. "They all probably are. And they're obviously kept against the wall with some sort of super-strong adhesive. Probably alchemical."
"Can you unglue it?" Brevan asked.
"I do have some universal solvent on me, but not much. I'd rather save it if I can." Shuriel shrugged as he spoke to Brevan, who returned the gesture.
"There's enough light for just to see all the way down the hall anyway. We don't need one," Brevan replied as he walked into the dungeon. The hallway was long and took the group deep into the mountain. Every ten feet or so a pair of torches as adhesive as the first stood against the wall, but the shadowy depths of the mountain were still thick enough that when Jewel heard the sound of something massive moving ahead of them, even she could not see what was ahead.
"There's something up there," Jewel said quietly. They were barely twenty-five feet into the dungeon. "It's big. Really big," Jewel drew her rapier, it's long, thin blade glistening silver in the torchlight as she quickly grabbed her dagger. At first, no one else could hear the threat that Jewel spoke of, but slowly at first, the sounds Jewel pointed out grew steadily louder, until everyone scrambled for their weapons. No sooner had Omar loaded his gun then a massive, armed creature burst into view of the torchlight. None had ever seen a creature so large; it's entire body looked as though it was covered in metal plates. Brevan had heard of monsters such as these, identified by the large, saber-like fin that decorated the top of their backs. They were called bulettes, and until now, Brevan had believed that they were only a myth that halfling mothers told their children to make sure they didn't venture too far away from home. Clearly, Brevan reasoned as the monster turned to face him and him alone, those myths had a basis in fact.
"Get Brevan back!" Shuriel yelled, but it was too late. Both Shuriel and Brevan knew that a bulette's favorite meal was fresh hafling meat; Brevan from old tales and Shuriel from firsthand experience. The monster charged directly at Brevan with the force of a mountain at its back. Thinking quickly, Brevan called forth his arcane powers, filling his hands with lightning. He reached out and and punched the bulette in the eye with his electrified touch, fully expecting to die in the next several seconds.
Brevan was wrong. The bulette's body armor was not vestigially designed to look metallic; bulettes naturally grew hides with flakes of iron in their skin; Brevan's electrical attack immediately danced across the monster's body, it stopped charging and bellowed in pain. Barely, Brevan was able to dodge the monster as it slide passed him, Shuriel diving for the floor and pushing Omar down to avoid the blow. Zerrik and Jewel both flattened themselves against the wall of the tunnel, and as the monster fell over sideways and crashed into a wall, Zerrik gripped his axe tightly and rushed over to the monster, committed to slaying it before it recovered from Brevan's attack. With all the strength he could muster, Zerrik brought the axe down upon the Bullette's neck, blood spouting from the wound like a fountain. The twitching monster immediately stilled, and Brevan nearly collapsed with relief.
---
6-5: Offerings of the Damn
Sidestepping the fallen monster proved to be no easy task, for its corpse took up much of the hallway and its body was covered with razor-sharp plates. Only Zerrik, covered from head to toe in plate mail, was able to walk away unscathed, but the same could not be said for his armor; the bullette's plates had left many scratches into the armor. Only mildly disgruntled, Zerrik quickly cast a spell of mending upon the armor, fixing it to its pre-engagement luster. Shuriel handed out several potions of healing to the rest of the group, thanking the gods that he wasn't as successful as he had originally hoped when selling his potions in Orleans.
After a bit of walking, the group came upon the antechamber; a large, hexagonal room that had apparently been serving as a the bullette's nesting area. Rotting flesh and mangled bones littered the floor; the remains of the the bullette's previous prey. The room held the impression that it had once been lovely; marble tiles were smashed into pebbles from the bullette's mighty clawed feet and dried blood had seeped into the porous stone, leaving the marble a horrendous, coagulated blood-red. Jewel's razor-sharp eyes immediately noticed a small satchel on the floor among the remains, as well as several shining rings adorned on various hands. The group quickly gathered the spoils of the victory, excited to finally have spoils for a victory. Jewel wasn't as excited, however, a fact that Brevan immediately took note of.
"Not to your liking?" Brevan asked as he flashed his new ring at her; a magical ring that would slow his descent should he start to fall.
"I think there's something on the ground here, under the corpses." Jewel said. She began pushing away the bodies, bones, and gore up against the wall, so the center of the room was clear. Her hands were covered with grim when she had finished, and the bodies had piled up so high that they had nearly touched the bottoms of a set of masks that adorned the walls in vain, as if to invite culture and civilized keeping into such a place. However, no one was paying any attention to the lack of atmosphere in the room; they were gazing upon what Jewel had unearthed with curiousity; a strange glyph chiseled into the marble. It was clear that the broken marble they had seen earlier had not been caused by the bulette; it was very intentional damage done to the floor.
"Any idea what it is?" Brevan asked Shuriel and Zerrik, as his own knowledge of arcane lore was not suffice enough to explain the glyph.
"I've never seen anything like it," Shuriel commented, bending down to get a better look. In truth, he was more interested in the broken marble than the sign; he was trying to figure if powdered marble was worth anything.
"It would suggest religious undertones, but nothing that immediately comes to mind," Zerrik responded after staring at the symbol for a long time. In truth, Zerrik felt as though he had seen it somewhere, but he couldn't pull the information that he sought from his mind.
"I'm getting a bad feeling about this place," Jewel said as her eyes darted around the chamber, paranoid. "We shouldn't stay here much longer."
"I second that notion," Brevan replied, looking from end to end of the room. The antechamber formed itself around a 't' intersection; they could advance through a passage to the east or the west. "Which way do you want to go?"
"That way first," Jewel said, pointing to the right. "It's as good a place as any to start looking." Brevan and Shuriel nodded their heads in agreement and the group slowly made their way down the east hallway; Brevan taking extra care this time to make sure that Zerrik was in front of him. Jewel took up her spot at the front of the party, but stopped. They had reached another intersection; one continuing forward, the other branching off to the left, heading in the same direction as the entrance tunnel. That second tunnel, which ran south, was coated in spots of blood; splattered on the floor and across the walls. In front of them, a single wooden door was closed, with the same symbol they had found in the antechamber carved into the door. Jewel wasn't particularly liking either passage at this point.
"Well, we could go down the bloody hall, or open the door that could have fanatic worshipers," Jewel bluntly reported back to the rest of the ground. The group shared Jewel's paranoia for a moment as they thought.
"We might find some answers to what that glyph means if we go into the room down the hall," Brevan reasoned. "It could be a clue to where the deed is."
"Then I guess that settles it for now," Omar said as he clutched his gun. Of the five adventurers, he was probably the only one who truly did not fear whatever creatures lurked around the dark corners of these forgotten halls; he had no reason to care for his life aside from vengeance, and vengeance only seldom leaves room for fear.
So it was Omar who went to the door first, opening it with caution before peering inside. He gasped at what he saw; if Jewel had become uneasy about the hallway, she surely would not want to enter this room. At one point, the chamber may have been nice; how, however, the walls were covered with a reddish-brown moss and the floors were painted in dried blood; the type of blood flow that only comes from cool, clean killings. As if the assure Omar's suspicions, there was a human-shaped figure atop a fine, oaken table in the center of the room; at least, Omar believed it was human; it was too flayed and maimed to be entirely certain. Omar stuck his head out of the doorway and motioned to his friends that it was safe to enter.
"By the gods … what is this?" Brevan asked, sounding disgusted. Zerrik wandered around the room investigating the corpse long and hard.
"Ritualistic sacrifice. Definitely the work of a cult."
"How do you know that? Is this something that your kind do?" Brevan asked with a mix of panic and accusation. Zerrik turned around and stared down upon Brevan; nearly twice his size in every manner, his eyes glaring with resentment.
"No." And with that one word, Zerrik turned around and continued his investigation. Jewel and Shuriel also wandered around, taking in the scenery of the room. This chamber also had the same symbol carved into walls countless times; the pair even found it flayed onto the back of the supposed cultist. Countless satchels darted the floors; Zerrik explained that they were probably offerings. While a little bit of coin was found in them, most have a grainy, pink powder in them. Shuriel took a pinch of it and examined the alchemical solution carefully.
"It's a masochistic drug," he replied quickly. "It confuses the body, making pain feel like utter ecstasy. One pinch of this and our friend over there was probably begging for more, even as the priest cut her apart." When no one was looking, Shuriel pocketed some of the drug in his satchel.
"Now I know I've seen this before," Zerrik said as he reached into the corpse, the gore squishing with his touch. He pulled from the mess a golden amulet, attached to a golden chain. His gauntlet was covered in gore, but he paid no mind to the stench, examining the amulet closely. "This symbol we've been seeing is the Yellow Sign. I didn't recognize it at first because it was very crudely chiseled into the stone floor and walls, but the resemblance to those markings to the actual, properly done sign is too uncanny to be coincidence." Zerrik held up the amulet in the torch light; the Yellow Sign glinting malevolently in the faint light.
"So what, exactly, is the Yellow Sign, Zerrik?" Brevan asked slowly.
"It's the unholy symbol associated with a god called Hastur. At least, his cultists believe he's a god," Zerrik scoffed. "He belongs to a group of deities that are collectively referred to as the Carcosian Mythos. As the stories go, they're powerful deities that were locked out of our cosmos when the gods created everything. That's really all I know on the subject, however."
"Why do you say, 'if he's a god?'" Shuriel asked curiously.
"Because in order to be considered a god, such an entity has to show some level of compassion for its followers," Zerrik explained. "Hastur, and the rest of the Carcosian Mythos, have no compassion at all, not for their followers, not for creation."
"What on earth would make someone worship a god like that?" Jewel shuddered.
"Fear of death. And the hope that you'll be the first one to die during the End Times," Zerrik said calmly. "There's nothing else to see here, we should press onward." The large man walked towards the door leading out of the grisly sacrificial chamber, with all four of his comrades noticing that he decided to pocket the amulet instead of throwing it aside, as any of them might have.
---
6-6: The Mirror
"I don't think it's a good idea," Jewel said as the fie of them gathered around the corner. They were all looking down the hallway, splattered with blood, torn bits of cloth, and bone. Although Brevan was curious as to what was behind the closed door, he personally didn't want to risk being attacked by whatever could be waiting in that chamber. Zerrik was oddly silent on the conundrum, and Shuriel was in agreement with Jewel.
"That hallway screams, 'wander down to your death, loves!' Let's just skip it and move on."
"What if there's something in there?" Brevan asked. "It could pop out and attack us at any time while our backs are turned."
"Then why don't you get out from behind Zerrik and open the door yourself!" Jewel snapped, to which Brevan promptly shut his mouth.
"This is stupid, I'll open the damn door," Omar snarled as he made his way down the hallway, gun slung over his shoulder. Jewel and Brevan moved to stop him, but halted when he walked beyond their reach. Zerrik remained silent and watched while Shuriel, who still bore bruises from Omar's peppering of rock salt, made no complaints to his sacrifice.
Nothing happened as Omar made his way down the hallway, until he finally reached the door. Taking his gun in two hands, he poked the door with the barrel of his blunderbuss, causing it to creek open slightly. Almost immediately, a bright light flooded out of the room, and Omar had to clamp his eyes shut in order to protect himself from blindness. After several seconds of disorientation, Omar's eyes were able to adapt to the sudden change in lighting and peer inside of the chamber.
Omar had never seen anything as fantastic as the room that was beyond that door. The walls, the floor; even the ceiling was coated with a fine, thick layer of crystal. Omar could easily make out the walls and the ceiling from beyond it, but the glare of several magical sources of light rising up from the floor made it difficult to see anything below the shining floor. In the center of the room stood a monstrous sculpture, forged from crystal as well; it was shaped like a knight's suit of armor and was posed as if to warn off intruders from this chamber. At the end of the chamber opposite the entrance, there was a magnificent golden alter, complete with steps and a grand arch. Atop the steps was what appeared to be a golden tabernacle, firmly closed.
Omar signaled for the rest of the group to come to the doorway and together, they all ventured inside the chamber; examining its contents for themselves.
"That's a lot of crystal!" Brevan replied as he gazed about the room.
"Think it's worth anything? Omar asked as he poked at the large, crystal statue in the center of the room.
Everything is worth something to a someone," Shuriel quizzically as he looked up at the golden tabernacle, scratching his chin. Part of him really wanted to to see what was inside of that box, but in a lich's home, such containers were probably closed for good reason.
This wasn't an answer that suited Brevan, however. His curiosity quickly got the better of him, but rather then risk his own well-being by opening the box himself, he uses his power to sway one of his allies. An ally who had already shown no fear in entering the chamber before, and would therefor not find such a magical suggestion strange or out of place. Omar.
p, Meanwhile, Jewel was examining the room when she noticed something odd underneath the crystal that made up the room's floor. It looked like there were things underneath the glass; people's things. She could barely make out clothes, weapons, and supplies; all neatly and tidily arranged in piled. She ran over to Shuriel and pointed them out to him.
"Do you see that? There's people's belongings under there. But what could it mean?"
"I don't know," Shuriel said as he shock his head. "But I've getting a bad feeling about this."
Weaving his magics, Brevan was immediately pleased with the result as the drow turned towards the golden tabernacle and began ascending up the polished stairs, pulling Shuriel out of his thought.s
"What in the Hells are you doing?" He exasperatedly cried. "You have no idea what's up there!"
"I know. I plan on finding out," Omar calmly said as he reached the top of the small platform. Shuriel immediately shot a glare at Brevan, who shrugged. "Couldn't make him do it if part of him didn't want to." Shuriel turned around just in time to watch Omar open the tabernacle. Shuriel only caught a glimpse of its contents; a mirror with a black, demonic embroidering. Nor did Shuriel want to see the accursed object; as a master of magical knick-knacks, he recognized a mirror of life-trapping when he saw one.
"Omar! Jewel! Duck!" Thanks to their quick reflexes, all three elves were able to above a flash of emerald light that erupted from the mirror, its power sending shivers up and down their spines. All three elves broke for the door, as did Brevan and Zerrik upon seeing what they could only assume was some sort of deadly trap in the midst of springing.
"What on earth did you do?" Brevan yelled out as the room began to shake, causing the crystals to sing out in an unearthly melancholy.
"Us? What did you do?" Shuriel yelled back as they made for the exit. They soon found, however, that they were too late; a thick wall of crystal was growing out of the walls; covering the exist and blocking their escape. Zerrik pulled out his axe and swung at the wall, barely even scratching it.
"What did you say that thing was?" Omar asked as he cocked hus gun. The mirror was still glowing green, except now that light had formed into a tendril of sorts and lashed out, onto the statue that stood in the center of the room, causing green light to flood out of it from every angle.
"It's a mirror of life trapping. Anyone that looks into it is sucked into the mirror," Shuriel replied, yelling over the harmony of the crystalline vibrations.
"So that stuff under the floor …"
"Belongings of people who are trapped in there!"
"Well, does your mirror typically do that?" Omar asked as he pointed his gun at the statue. The light had spread to the statue's eyes, and with that, it picked itself up and animated to the will of the mirror.
"No, no it does not," Shuriel replied.
Bits of crystal broke off from the mighty golem as is slowly made its way towards the heroes. Brevan acted first, casting a powerful blast of magical projectiles at the creature. However, much to Brevan's dismay, the missiles simply bounced right off of the creature, reflected from the golem's intricate glass pattern.
Shuriel and Jewel, in the meantime, rushed into the fray to attack the golem. They soon found, however, the monster's hard crystalline body was more then just for show; their weapons barely dented the material. In desperation, Shuriel turned to Omar and Brevan and yelled out to them, "Break the mirror! If it's bonded to the mirror, stopping this thing might be as easy as breaking the mirror!"
Omar acted first, he rushed up towards Jewel and Shuriel, nimbly tumbling past the golem's blows. Rolling onto his feet, Omar kept his aim steady and true, firing a single bullet directly at the mirror, which shattered instantly. The green ray of energy that connected the golem to the mirror flickered slightly as the monster began thrashing about. Omar's grin was stolen from him, however, when he realized that the mirror's shards were crawling back towards its frame. The glass appeared to be in a liquidated state and was steadily clawing its way up the wall.
"I don't think that's gonna stop it for long!" Omar yelled! Shuriel turned around and saw the mobile glass, cursed under his breath, and yelled at Zerrik.
"We gotta take this thing down!" Shuriel need not say anything else to the cleric. His mighty arms already in motion, Zerrik lunged towards the golem and struck it with his axe, pooling the might of his god into the swing. Shadows flickered across the golem, shattering its body but leaving it mostly intact. What's worse, to the party's horror, the glass had already reformed on the mirror, and the golem began to glow with an azure light.
"I think it's getting ready to do something!" Brevan yelled.
"Look, down there!" Jewel called out as she pointed to the floor. One of the sets of equipment had began to glow azure along with the golem when the mirror had fixed itself. More specifically, a small set of pistols lifted themselves up into the crystal, merging with the room. The golem flashed with an azure brilliance as its body morphed to meet this new upgrade, causing its arms to morph into long, crystal barrels. It swung its arms towards Omar and began spraying everything in the room with a burst of shrapnel-like glass, sweeping the barrels around until everyone save for Jewel was impaled by bits of razor-sharp glass. Shuriel clutched his stomach as his grip on the adamantine bar he had stolen from GLaDOS loosened; he figured that the pinprick shots would cause him and anyone else embedded with them to bleed out in a few minutes. Thinking quickly, he backed away from the golem and did the only thing he could in such a dire situation; he drank deeply from one of his potions.
~ End Entry #6
---
Art by BenWootten
---